We've all been part of a world which has become strangely disconnected during lockdown. But with this disconnection has come a new focus on the importance of family, near and far, the value of conversation and enjoying moments that bring us closer together, without effort or frustration.
At The Hearing Care Partnership, we have been focusing on how to use the best hearing aid technology as well as a blended care approach to ensure you stay connected this Christmas.
Connect with the family and with the joy
Many of us associate the festive season with laughing grandkids, carol singers, big turkey dinners and sharing mince pies after a frosty winter walk. Christmas may look a little different this year, but whether you're having a merry little Christmas in lockdown or with a small gathering, there's no need to compromise on your hearing.
With the power of hearing aid technology, you're listening and laughing with the family. Whether that's the programmes which automatically change for you as you move between the windy outside and the chatter at the dinner table or turning up the volume on the family TV favourites, you are the one in the driving seat.
Many of our hearing aids are also enabled with directional microphones, meaning you can tune in to all aspects of the dinner table. From passing the roast potatoes down for Uncle John to catching up with the grandkids.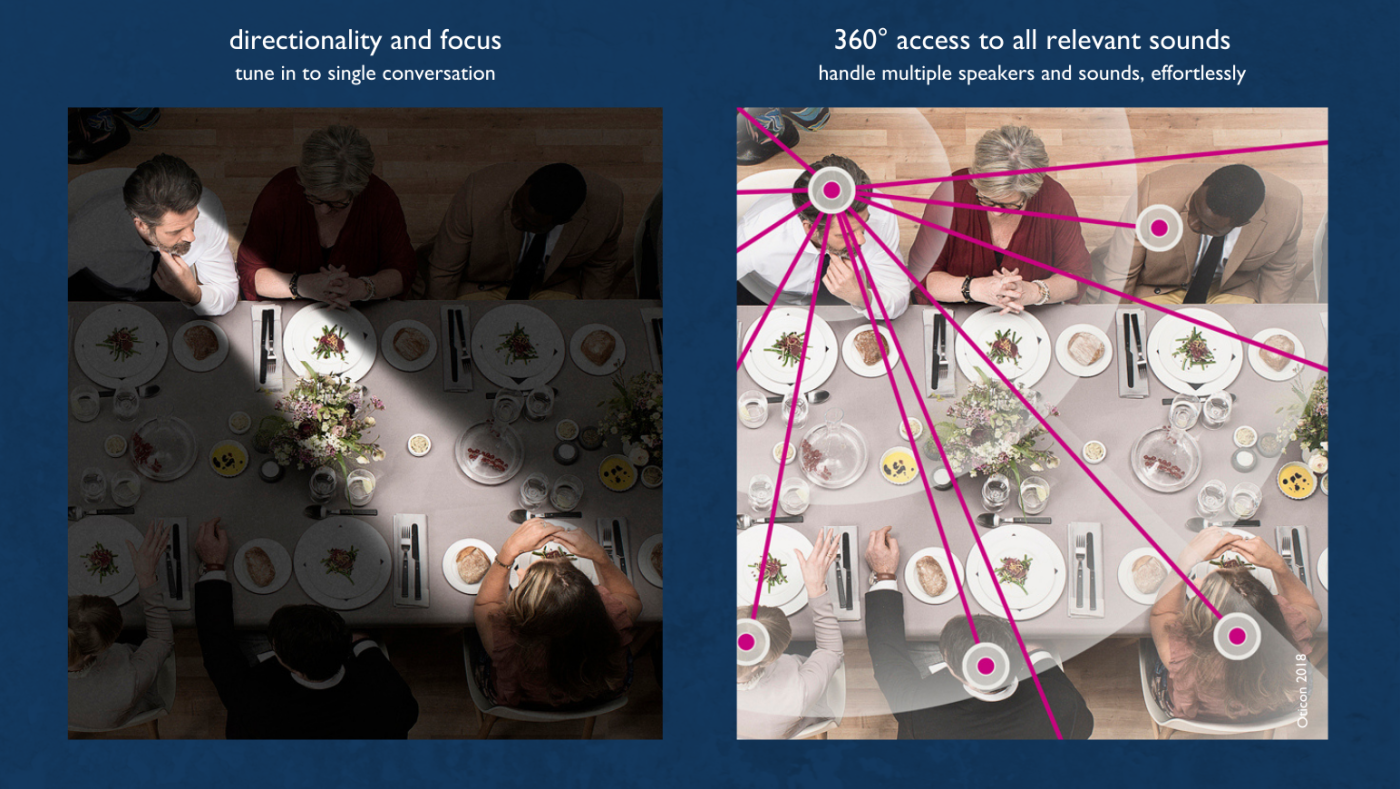 Connecting to your technology
Did you know that hearing aids can connect you straight to your mobile phone, TV and computer?
In true 2020 spirit, you may be looking forward to video calls with loved ones. Using the technology wrapped up in your tiny device, you can connect to computer and phone calls too, bringing your family that bit closer.
When watching TV, you can wirelessly connect to your favourite shows as well. Meaning more time catching up on the Bake Off: Christmas Special and laughing along at Home Alone.
Your hearing aids can also connect wirelessly to your music favourite music app, acting just like a pair of headphones. Yes, even Now That's What I Call Christmas 2020, on repeat.
So even though you might have slightly different traditions this year; when Auntie Ali calls with the kids, you'll be able to join in with all their news on video chat, share the laughter and the music, just the same.
Connecting to your wellbeing
Gift giving for family members and charities is usually on our mind at this time, but what about the gift to yourself? What about your own wellness?
Hearing doesn't just happen in your ears. It connects us to others and gives a sense of happiness and wellbeing. While we may notice changes in our vision (and act faster), it may be harder to detect (and acknowledge) the changes in our hearing.
With hearing loss linked to rates of depression (1) as well as early onset dementia (2) and fatigue(3) our ears deserve more credit and care.
The most effective treatment for hearing loss is a hearing aid. By improving your overall hearing sensitivity, they can also make a dramatic difference to your overall quality of your life. No more frustration at having missed a conversation with friends, just crystal-clear audio.
Tune in to the Christmas bells ringing down the road, the clatter of pans as your Christmas turkey goes in the oven and the happy sounds of the family around you.
We're open and here for you
Looking after your hearing to keep you connected has never been more important. Being in lockdown doesn't mean you have to wait. As an essential healthcare service, we are here for you, always putting your safety first with a professional, friendly approach.
Book your FREE Full Hearing Assessment at your local practice online or by calling our Dedicated Patient Support team on 0800 52 00 546.
(1) Depression: National Council on the Aging (NCOA) study, 1999
(2) Early onset dementia: US study by John Hopkins University and the National Institute on Aging study, 2011
(3) Fatigue citation: PMC, Fred H. Bess and Benjamin W. Y. Hornsby research, 2014